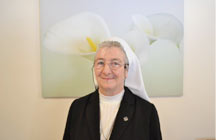 Sister Mary McNulty - Superior of England and Chair of Trustees
I grew up on a small farm in County Mayo in the west of IRELAND. In our family we were nine children, five boys and four girls. At the age of 18, I went to England to join the Pallottine Sisters in Rochdale in Lancashire.
After my first profession in 1969 I went to London to study for my 'A' levels. This was followed by a Batchelor of Divinity at Heythrop College and a Postgraduate Certificate in Education at the Institute of Education.
My first work experience was cooking for a year at Pallotti Hall, our Residential Home for Children, in Macclesfield in Cheshire. At the time we had 57 children under the age of five. It was quite a challenge for a 23 year old. I also learned to drive.
In 1976 we opened a new community in Greenford in West London. For twelve years I worked there in our Pallottine parish. My main work was as the Catechetical Coordinator in the parish, but I was involved in many parish activities. For the first five years I was also a Class Teacher in the Visitation First and Middle School, then I worked part time at Cardinal Wiseman High School teaching Religion and Scripture to a small group.
I returned to Ireland in 1988 and for nearly two years I was a member of the Retreat Team in the Pallottine College in Thurles, County Tipperary. After this enriching experience I was sent to Africa.
In 1990 we opened our mission in the Singida Region in the centre of Tanzania, an impoverished semi-desert area. With the encouragement of the Pallottine Fathers we have built a convent, a Secondary School and a dispensary in Siuyu, a small village in the centre of Tanzania and a Formation House in Arusha. For twenty three years I have been part of the administration team and from 1995 to 2010, I was Headmistress of Pallotti Secondary School. Today we have a thriving mission with three communities in three dioceses - Singida, Arusha and Tabora.
Since 2010, when I was elected as the Provincial Superior of the Pallottine Sisters of the English Province, I spend half a year in England and half in Tanzania.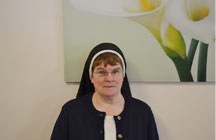 Sister Leonie Rowan - Trustee
I entered the Pallottine Sisters, having completed my secondary education in my home town of Liverpool, in 1957.
I am now a retired teacher. I taught at Beechwood Convent School, Rochdale; at Our Lady of the Visitation, London; and at Holy Family Primary School, Rochdale. I retired in 2010 and celebrated my Golden Jubilee, as a Pallottine Sister in August 2012.
Currently, I am doing voluntary work in my local area. I am part of the Chaplaincy Team at the Royal Oldham Hospital, part of the Pastoral Team at Buckley Hall Prison and I am a Eucharistic Minister in the Parish of St. Patrick, Rochdale.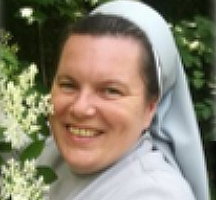 Sister Anna Maldrzykowska - Trustee
Missionary Sister of the Catholic Apostolate – Pallottine
Born in 1979 in Poland; I have been a member of the Congregation since 2001. During the years 2004-2009, I studied Theology and Social Science at the John Paul II Catholic University of Lublin- Poland. From 2009 – 2015 I was working as a teacher - a catechist in a secondary school, at the same time serving as a superior of our community since 2010. In 2015-2016 I served as provincial councilor and in 2016, I was elected a general councilor to the General Council of the Congregation.
Presently I live in Rome and was appointed to serve on the board of Trustees in 2018.